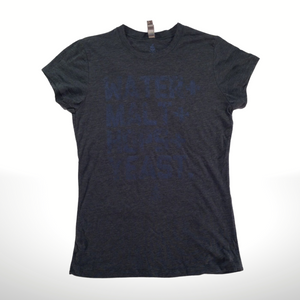 CraftGeer
THE FANTASTIC4
Regular price
$18.00
$0.00
Unit price
per
Okay, we'll admit it, some of the decisions we made when printing THE FANTASTIC4 Women's Tee from CraftGeer, we would not make again. The shirt is great, just like all of our others, it is super soft and fits like your favorite t-shirt the first time you put it on. The message on the shirt is on point, WATER + MALT + HOPS + YEAST. and the CraftGeer (Hops and Crossbones) logo. However, our color choices leave a lot to be desired.
The shirt itself is a heather indigo in color, and the imprint is a distressed Tarheel Blue - a color combo that looked great on paper and sounded awesome in our heads, but came out a little hard to read.
That's why we're discounting THE FANTASTIC4 Women's Tee. While supplies last, they're available for only $14.00 each. We promise, it's a great shirt and you will not be disappointed in it's quality.
It's made up of 65% polyester / 35% cotton sheer jersey. It features 40 singles for extreme softness. Just like all CraftGeer products, THE FANTASTIC4 Women's Tee from CraftGeer is designed for extreme comfort and style; and also to let the rest of the world know that you understand what a great beer is, and aren't afraid to tell them about it. THE FANTASTIC4 Women's Tee from CraftGeer is printed in the United States, the T-Shirt itself is manufactured in China.
---